4 METHYLCYCLOHEXANOL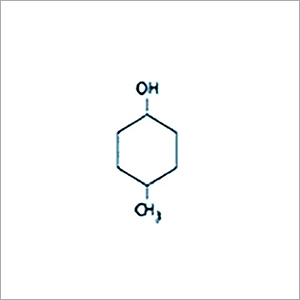 4 METHYLCYCLOHEXANOL
Price And Quantity
Product Specifications
Application Used as a solvent for Cellulose Esters and Ethers, Anti-oxidant in blending of soaps and Detergents and as a De-greasing agent in Artificial Silk Industries. Agent in Artificial Silk Industries

Liquid
Product Description
4-Methylcyclohexanol offered by us possesses good antioxidant properties that are used in blending of soaps & detergents. It is also employed as a de-greasing agent in artificial silk industries. This compound is highly pure in nature and assures superior effectiveness for whichever the purpose it is being used. It has ability to solubilize ethers & cellulose esters hence serve as solvent for both of them. 4-Methylcyclohexanol appears as clear liquid with boiling point range of 171 to 173 degrees Celsius and high flash point of 700 degrees C. It is available at market leading rates in bulk as requested by our esteemed clients.

PRODUCT INFORMATION
4 - METHYLCYCLOHEXANOL
Product Identification

Synonyms : 4 - Hexahydromethylphenol
Chemical Structure : .
Molecular Formula : C7H14O
Molecular Weight : 114.19
CAS NO. : [589-91-3]
EINECS NO. : 209-664-8
RTECS NO. : Unlisted
Specification
Appearance : Clear Liquid
Purity by GLC : >99%
Specific Gravity 0.91
Boiling Range : 1710 C to 173 0 C
Flash Point : 700C
Transportation
UN No. : Not Regulated
Hazardous Class : Not Regulated
Packing Class : Not Regulated
Packing & Storage
Packing : 50/200 Kgs HMHDPE Drums
Storage : Store in tightly closed container.
Application
Used as a solvent for Cellulose Esters and Ethers, Anti-oxidant in blending of soaps and Detergents and as a De-greasing agent in Artificial Silk Industries.
Agent in Artificial Silk Industries
For your protection :
The information and recommendations in this publication are to the best of our knowledge reliable. However, nothing herein is to be construed as a warranty or representation. Users should make their own tests to determine the applicability of such information or the suitability of any products for their own particular Purpose. Statements concerning the use of the products described herein are not to be construed as recommending the infringement of any patent and no liability for infringement arising out of any such use is assumed.


Trade Information
Contact us for information regarding our sample policy

Australia North America South America Central America Asia