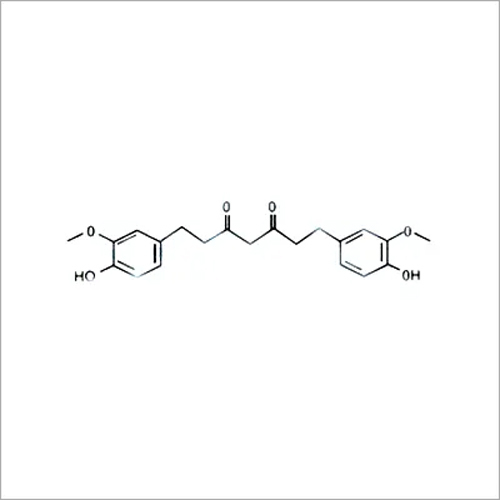 Product Description
Tetrahydrocurcuminnoids - 95% is most commonly used in cosmetics industry for preparation of anti-aging, UV protective, and skin pigment fading creams & lotions. It is known to have chemical formula C21H26O6 with molar mass of 372.2 g/mol. This compound appears as white to off-white colored crystalline powder which shows solubility in ethanol, acetone, and DMSO. It is highly pure in nature and assures superior effectiveness when used. Tetrahydrocurcuminnoids - 95% shows melting point range of 80 to 100 degrees Celsius with good stability at controlled room temperature.

PRODUCT INFORMATION
TETRAHYDROCURCUMINNOIDS-95%
Product Identification
Synonyms : 1,7-Bis (4-hydroxy-3-methoxyphenyl)
heptane-3,5-dione,
Tetrahydrodiferuloylmethaneione,
Molecular Structure : FORSKOLIN
CAS NO. 36062-04-1
Chemical Formula C21H26O6
Molar Mass 372.2
Description Off white to creamy white crystalline powder
Identification Rf and Retention value of the sample is concurrent with that of the standard sample
Solubility Soluble in Acetone, Ethanol, DMSO and DMF Slightly soluble in hot Water
Clarity Clear transparent solution
Melting Range 85-100 °C
Loss On Drying 2.0% Max
Ash content NMT 0.2 %
Assay by HPLC NLT 98%
Storage Store in controlled room temperature and keep away from strong direct light.
Packing 25 Kgs Fibre drums

Application
Fade skin pigment , defense UltraViolet radiation, Anti-aging

For your protection :
The information and recommendations in this publication are to the best of our knowledge reliable. However, nothing herein is to be construed as a warranty or representation. Users should make their own tests to determine the applicability of such information or the suitability of any products for their own particular Purpose. Statements concerning the use of the products described herein are not to be construed as recommending the infringement of any patent and no liability for infringement arising out of any such use is assumed.

Contact Us
No 20, "SOMU CENTRE", 29th Main, 1st Phase, 2nd Stage, BTM Layout, Bengaluru, Karnataka, 560076, India
Phone :+918068092965